I've got quite the stash of fruit in the fridge with the summer in full swing and sales upon sales at the stores. Being in the north, we don't always get the best selection of product, let alone, good prices. When there are sales on berries (usually 2 for $5, or $2.99 per carton) I always buy them. The biggest problem then is if we don't wash them up and start eating them right away,
I've seen several restaurants that have fruit salads and I've always thought it would be so strange to eat fruit with a salad. Because of that mindset, I never tried one. Until last week anyway. That's when I decided to throw together a berry salad with arugula, feta, and some sliced almonds. Seriously. Hit. The. Spot.
What You'll Love About This Salad
The balsamic berry arugula salad is the definition of summer. It's light, and topped with two of everyone's favorite berries. Don't let your fruit go to waste when you can cut it up and throw it in this salad!
Not only is it a great way to use up fruit, but makes a great side to your favorite summer meals. If you're grilling, throw this together to serve with whatever main it is you're making. In our house we don't do much of any meat, however, it would go great with a steak or a nice marinaded chicken breast.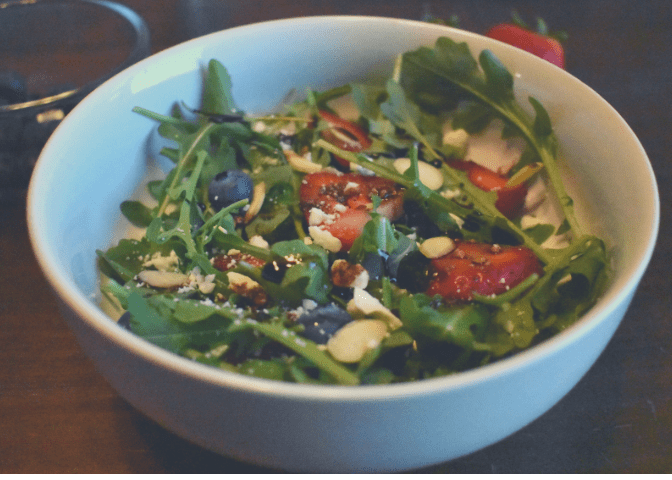 How To Make This Salad
This salad is super simple. All you need are some sliced strawberries, blueberries, balsamic glaze or balsamic reduction, feta, and sliced almonds. If you want to make the balsamic glaze at home, it's quite simple. I'll go through a quick instruction here, but there'll be a separate post soon with more details. In the meantime if you have questions, put them in the comments below!
To make the balsamic glaze all that's needed is a cup of balsamic vinegar and (2-3 tsp depending on how sweet you want) sweetener of choice (honey, brown sugar, or maple syrup are the best options). Bring the mixture to a boil in a pot on the stovetop. Once it is boiling, reduce to a simmer and leave for about 15 minutes. It should coat the back of a spoon when it's done.
It really doesn't take much of the balsamic glaze to coat your salad and it packs a lot of flavor, so start with less. It's a lot easier to add more if you need it versus overdo it.
Balsamic Berry Arugula Salad
Delightful summer salad topped with strawberries, blueberries, feta cheese, sliced almonds, and balsamic glaze dressing.
Ingredients
5 oz arugula (size of one package)
4 sliced strawberries
1/4 cup blueberries
1/4 cup feta (more or less to your tase)
2 tbsp sliced almonds
2-3 tsp balsamic glaze
Balsamic Glaze:
1 cup Balsamic Vinegar
2-3 tsp sweetener (maple syrup, brown sugar, or honey)
Instructions
Balsamic Glaze:
Bring balsamic vinegar and sweetener to a boil in a pot
Once boiling, reduce to a simmer and stir
Simmer for 15 minutes (give or take a few) stirring occasionally
The glaze is done when it coats the back of a spoon without all running off
Salad:
In a bowl toss together arugula, strawberries, and blueberries
Top with feta and almonds
Drizzle the balsamic glaze over the top
Split into serving dishes (this makes 2 meal sized salads or 4 generous side salads)
Notes
To make this vegan feel free to use a vegan feta cheese. While I do not have a recipe for it, there are several out there. Click here for an example.
This could also be made with a plain balsamic reduction. I make my glaze less sweet, so it's basically a blend of balsamic reduction and balsamic glaze. Make it cater to your taste buds. 🙂
Serving size in nutrition is based on splitting recipe in 2
Nutrition Facts
Balsamic Berry Arugula Salad
Serves 1 Salad
Amount Per Serving
Calories

146 (per serving of 2 salads/recipe)

% Daily Value*
Total Fat

8 g

12.3%
Saturated Fat
0
Trans Fat
Cholesterol
0
Sodium
0
Total Carbohydrate

13 g

4.3%
Dietary Fiber

2.5 g

10%
Sugars

8.2 g

Protein

5.8 g
| | |
| --- | --- |
| Vitamin A | Vitamin C |
| Calcium | Iron |
* Percent Daily Values are based on a 2,000 calorie diet. Your daily values may be higher or lower depending on your calorie needs.
https://cassclaycooking.com/balsamic-berry-arugula-salad/
If you try this, let me know what you think in the comments below.
-Cassie 🙂
(Visited 14 times, 1 visits today)