On the vegan nice-cream craze. My appetite has been through the roof all week and I can't get enough fruit. We made our weekend trip to Costco and may have come out with a little bit of excess: bananas, cherries, strawberries, blueberries, watermelon, and apples. I don't think we'll have a problem eating all of this, but I've basically only been eating bananas now in nice cream form.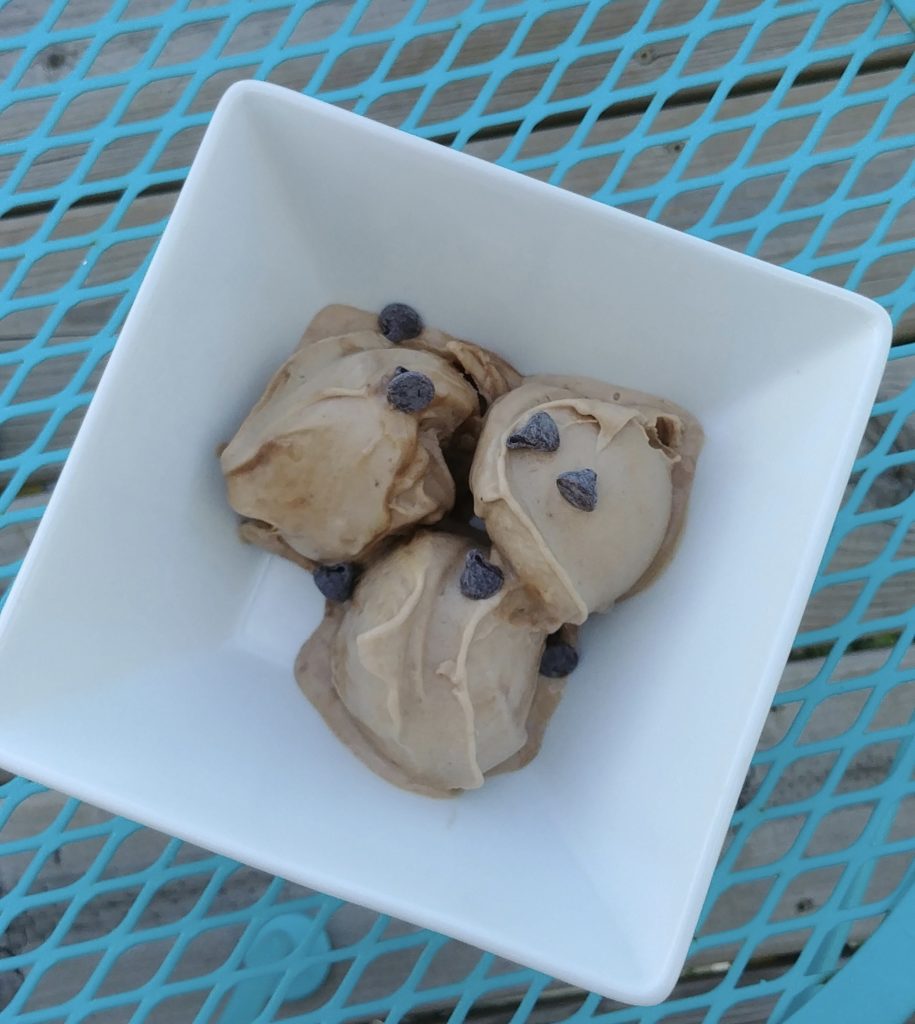 Nice cream is so versatile it's easy to come up with new flavors. This one I threw in some powdered peanut butter and chocolate syrup for flavor and milk for consistency. Nice cream is vegan friendly, meaning you can make it with dairy milk and milk chocolate syrup or you can use almond milk and vegan chocolate syrup.
How to make Nice Cream
If you haven't made it before, it's quite simple. You'll need a high speed blender or food processor to grind up the frozen bananas. Milk isn't totally necessary but it helps with the consistency and if your blender isn't a fancy one, it'll help it blend in general. The things you add to nice cream are also versatile, pick whatever you have in the pantry!
You need to make sure you have bananas frozen prior to making nice cream, which is the most important part. If they're not frozen, you're basically making a smoothie bowl. While smoothie bowls are good, it's not the same as nice cream, and nice cream is much better for a hot summer day.
You can just add everything to the blender or food processor. If you add something like nuts and don't want them chopped super fine, add them after the banana has started to grind down. Serve it immediately or place it in the freezer for about 15 minutes to get a nice soft yet firm texture. If you leave it too long it gets really hard and it'll need to thaw a bit prior to eating it.
Why you'll love Nice Cream
Vegan friendly dessert. Who doesn't love a dessert that could be mistaken for healthy ice cream. Nobody has to know it's vegan, unless you want them to know.
Don't ever waste a banana again. Rather than throw away your overly ripened bananas, cut them up and throw in the freezer for hot days.
Versatile flavors allow for whatever you have to be flavors. Nuts, frozen berries, coconut, chocolate chips? Throw it all in!
Less sugar and fat than traditional ice cream. We're all trying to make more health conscious decisions. Here is a great reason to ty nice cream.
Dark Chocolate Peanut Butter Nice Cream
Ingredients
2 bananas, sliced and frozen
1 tbsp dark chocolate syrup
1.5 tbsp peanut butter powder (or regular creamy peanut butter)
1/4 cup milk (any kind will work)
Instructions
Freeze chopped bananas at least 4 hours prior to use
Add ingredients to blender or food processor
Grind until smooth
Scoop into serving dishes and top with chocolate chips
Serve or place in freezer for 15 minutes for firmer texture prior to serving
Notes
Make this vegan by using non-dairy milk and dark chocolate. Reduce calorie count by using non-dairy milk and powdered peanut butter.
Nutrition Facts
Dark Chocolate Peanut Butter Nice Cream
Serves
Amount Per Serving
Calories

211

% Daily Value*
Total Fat

5.3

8.2%
Saturated Fat
0
Trans Fat
Cholesterol
0
Sodium
0
Total Carbohydrate

40.6

13.5%
Dietary Fiber

4.6

18.4%
Sugars

24.1

Protein

4.5
| | |
| --- | --- |
| Vitamin A | Vitamin C |
| Calcium | Iron |
* Percent Daily Values are based on a 2,000 calorie diet. Your daily values may be higher or lower depending on your calorie needs.
https://cassclaycooking.com/chocolate-peanut-butter-nice-cream/
Hope you enjoy this one as much as we did. Definitely will be making it again. Let me know what you thought!
-Cassie 🙂
(Visited 10 times, 1 visits today)