It's been quite the whirlwind of a couple of weeks. My sister got married on Friday, I pulled a muscle in my thigh and ended up with a stye on my eye, finished an online class, and the list goes on. I stocked up on zucchinis last week at the farmer's market, then my mom's co-workers gave her some, which made their way to me – leading me to this zucchini pesto recipe.
Why you'll love zoodles?
They are similar to pasta without the crazy amount of carbs. You can eat more of them or if you're trying to lose weight, they are a lower calorie, lower carb alternative to pasta.
Summer = zucchini. I don't know about you, but during the summer season, we can't seem to get away from zucchinis. Between my work, my mom's coworkers, and other friends we end up with lots of them. What better way to make sure they don't go to waste, than in a 'pasta' dish.
They're easy to make (just make sure you get a spiralizer, or follow one of the methods here.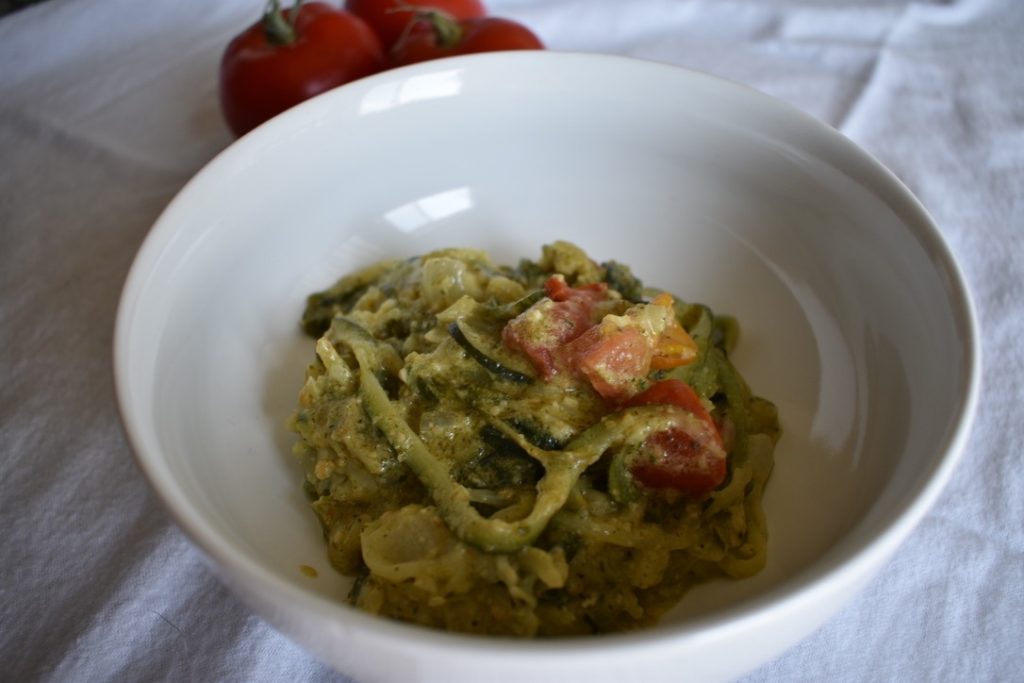 How to make vegan friendly pesto? Substitute nutritional yeast for the parmesan cheese. This dish is vegetarian, but if you're interested in eating meat, or adding a little protein – you can always throw a chopped chicken breast or browned tofu over this.
I hope you enjoy these pesto zoodles! Feel free to make them with regular spaghetti to save yourself the hassle of making the zucchini noodles – you can always add all the additional veggies to make a healthy pasta recipe. 🙂
When I say two large zucchinis, I'm talking two large from the garden size. In our area, grocery stores and even farmer's markets tend to have quite small zucchinis, so if you're purchasing them, use three or even four if they're relatively small. Think of it like this – you're having that for your meal. What will fill you up?
Pesto zoodles are a healthier alternative to pesto patsta, packed full of vegetables and homemade cashew pesto. Vegetarian and vegan friendly (sub the parmesan for vegan parmesan - lots of recipes or even store bought options).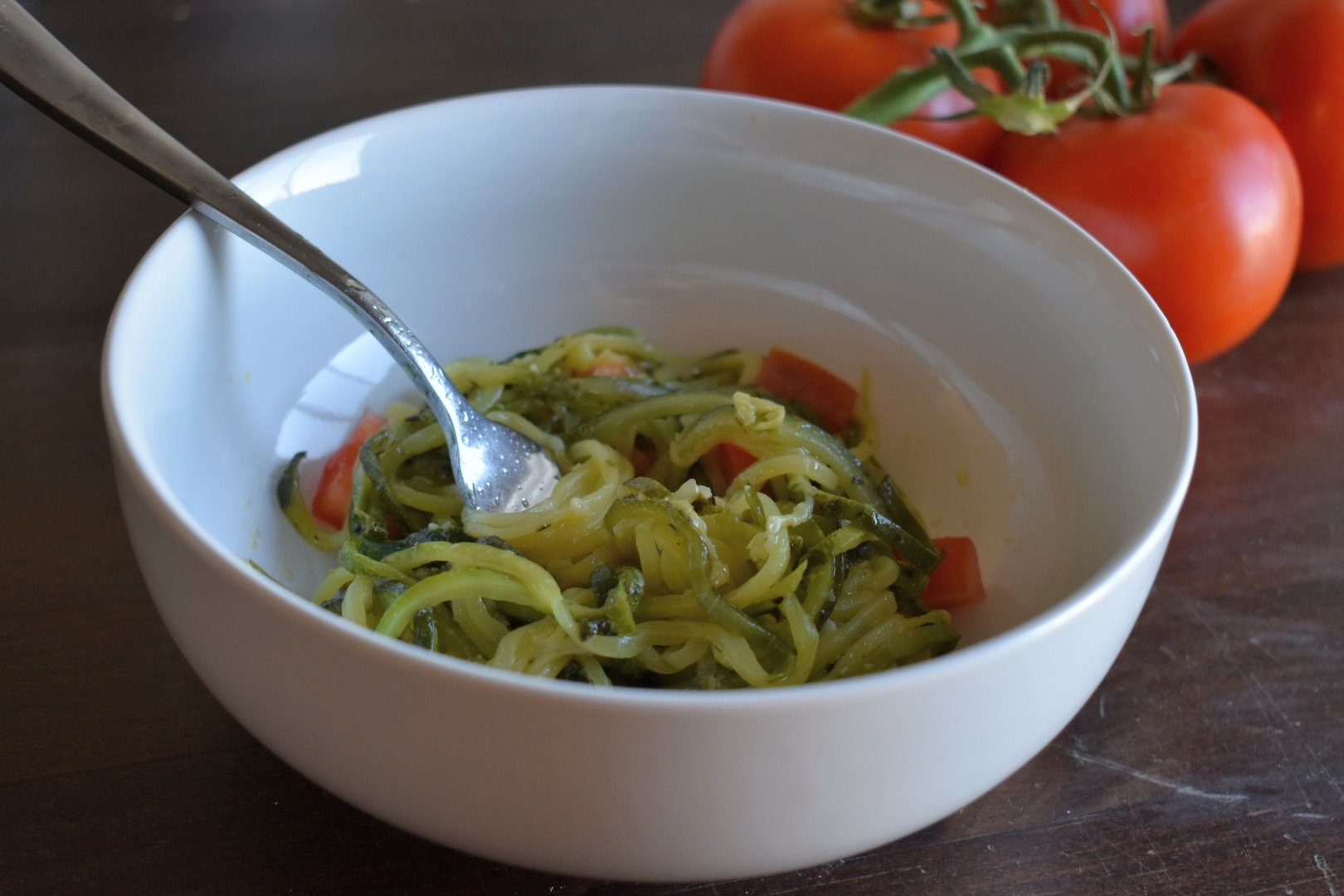 Prep Time20 mins
Cook Time30 mins
Total Time50 mins
2
large zucchinis (or 3 medium), spiralized
1
container cherry tomatoes, sliced
Pesto Ingredients
5
tbsp
freeze dried basil (or 2 bunches fresh leaves)
1
To make pesto zoodles spiralize zucchini and collect in colander
2
Sprinkle a small amount of salt on the zoodles and allow to sit for 20 minutes 20 Minutes
3
While zoodles are sitting, chop onion and tomatoes
4
In a food processor or blender, add olive oil, nuts of choice (I prefer cashews), parmesan cheese, salt, garlic, and lime juice. Blend until a thick paste is formed
5
Once 20 minutes have passed, squeeze the water out of zoodles with a cheese cloth or dry with paper towels. The salt should have helped remove excess water. The more you get out now, the less time they need to cook
6
Heat 1 tbsp olive oil in a large dutch oven or pot, and add chopped onion and garlic. Cook until onion turns translucent
7
Add zoodles to pot and allow them to cook down (they'll need about 30 minutes total) 25 Minutes
8
After about 20 minutes (you'll judge based on how much liquid is in your pot. You want some but shouldn't see your noodles submerged, just a bit at the bottom) add the tomatoes and baby kale
9
After about 25 minutes, add the pesto and drop the heat to prevent it from burning to the bottom of the pot
10
Let it cool for a couple of minutes, and serve hot.
Nutrition Facts
Servings 4
---
Amount Per Serving

% Daily Value *

Total Fat 27.6g

43

%

Total Carbohydrate 16.6g

6

%

Dietary Fiber 3.3g

14

%

Sugars 8g

Protein 7.6g

16

%
---
* Percent Daily Values are based on a 2,000 calorie diet. Your daily value may be higher or lower depending on your calorie needs.
Let me know what you think of this recipe. Make it vegan by substituting nutritional yeast for the parmesan in the pesto.
-Cassie 🙂
(Visited 102 times, 1 visits today)