39 weeks we're at already. Seems like just yesterday, we found out we were going to be having a baby and here we are, waiting for it to happen any day. We had an appointment on Thursday, and it sounds like she's dropped even more. Sounds like she doesn't think it'll be too much longer, so all the final preparation work is underway. We got some house cleaning done this weekend, for all of you moms out there, I'm sure you know that nesting feeling. Well it was incredibly real for me today, I even scrubbed our door.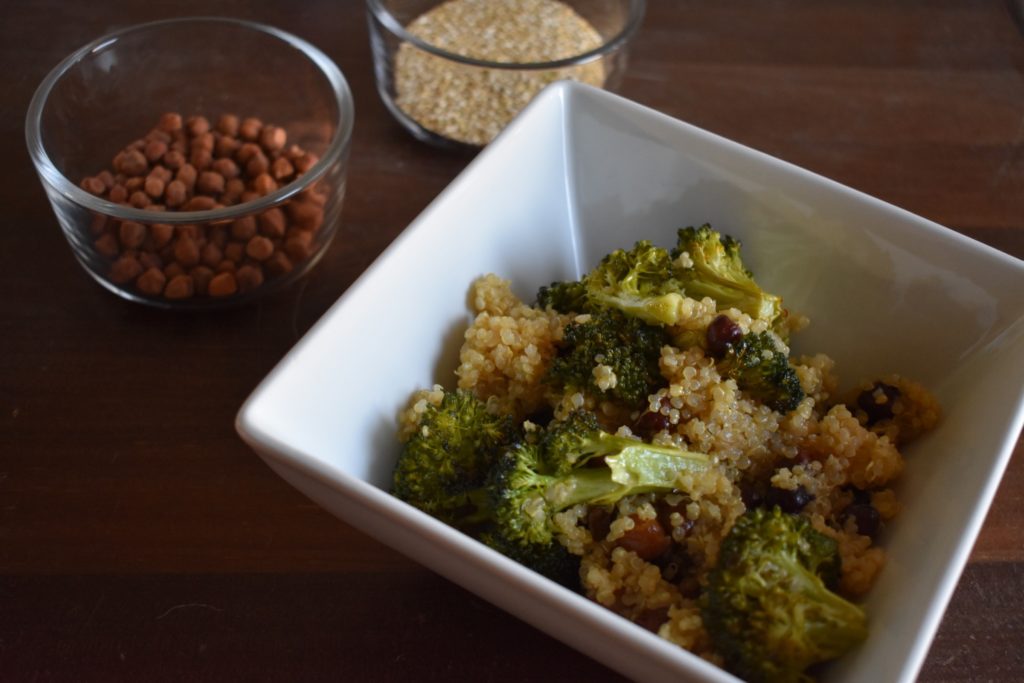 My grandpa passed away on Monday, so that was also something we were dealing with all week. His funeral was yesterday, so we said our final goodbyes to him and reminisced on some good memories, as well as all the memories of my dad and grandma. It was quite a whirlwind of a weekend to say the least. At least we had some fun celebrating my sister's birthday with all the goodies, including some donuts and coffee, our favorite pizza, and Gigi's Cupcakes.
Now we're trying not to meal prep too much this week being there's a good chance we could be spending a couple of days in the hospital. That being said, we still purchased our weekly groceries, but I'll just be making as we eat this week to prevent wasting leftovers. My easy go-to is this dish – roasted broccoli and chickpeas with quinoa. We found this recipe on Nourished the Blog a couple of years ago, and have since made many different versions of it and modified it to our tastebuds. My husband loves it, and it's so easy to throw together for lunches at work.
The first time you read the ingredients you'll probably think that it's very odd to mix it all together, but YUM is all I have to say. We've also been buying the huge bag of broccoli from Costco every week, so this is perfect to make a dent in that. Finding foods that are high in calcium, iron, B vitamins, and potassium isn't always super easy, but broccoli checks all the boxes!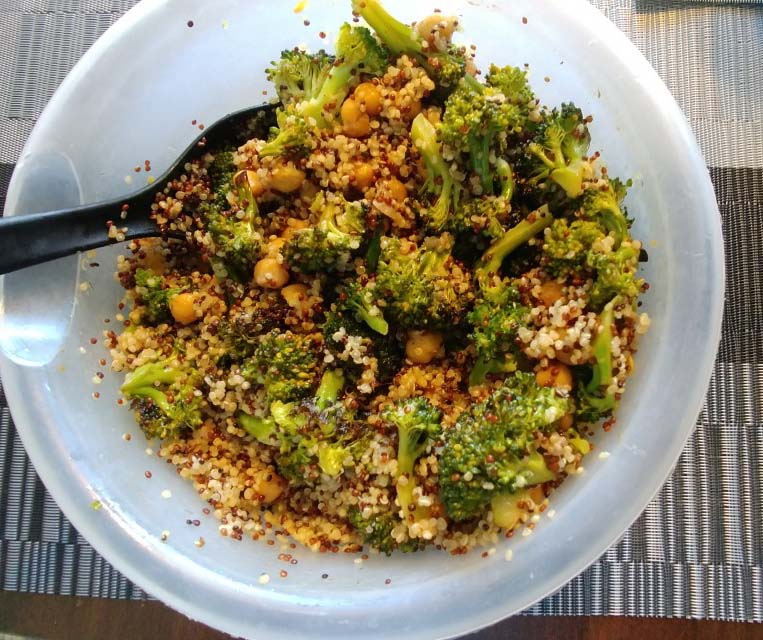 Prep Time: 5 Minutes
Cook Time: 25 Minutes
Total Time: 30 Minutes
Yield: 4 servings
Ingredients
1 cup quinoa
2 cups vegetable broth
4 cups broccoli florets (or more if you want more broccoli in your dish)
1 can chickpeas (or 2 cups cooked if you make from dry – you can also use desi chickpeas for a slightly crunchier protein)
1-2 tbsp olive oil
1 tsp Lawry's seasoned salt
Dressing
4 tbsp olive oil
1 tbsp maple syrup (or substitute molasses if needed)
1 tbsp balsamic vinegar
1/4 tsp dill weed
1 tsp dijon mustard
salt to taste
Directions
Preheat oven to 400°F
Cut broccoli to florets and place on baking sheet
Coat with olive oil and mix together to distribute olive oil
Add chickpeas and mix into broccoli
Sprinkle seasoned salt over the mix
Bake for 25 minutes
While broccoli and chickpeas are baking, make quinoa in small pot
Bring the broth and quinoa to boil and then reduce heat to medium low and let simmer for 15 minutes (tilt pot and ensure no liquid remaining before removing from heat)
Mix together dressing ingredients in a bowl and set aside
Add cooked quinoa to a large bowl and mix in dressing to evenly distribute in the quinoa
Mix in broccoli and chickpeas to the quinoa and mix to distribute the dressing
Place in bowls to serve and use salt and pepper to taste
Let me know what you thought, if you made any changes or had any suggestions! We love this dish, and hope you do as well.
-Cassie 🙂
(Visited 604 times, 5 visits today)