Having one of those weeks where you can't seem to get enough sleep and all you want to do is veg on the couch. At least I have a baby to cuddle with me. Anyway, I am not letting my lethargy get the best of my eating this week. I planned a few different meals including my favorite roasted broccoli and chickpea buddha bowl (click the link for recipe), walnut and cauliflower 'meat' tacos, these quinoa and bean stuffed bell peppers, and an Indian dish, haven't yet decided on what but leaning toward Chana Masala (curried chickpeas). I also stocked up on pineapple and bananas to make gelato and nice cream, cause they're delicious and I'm always in the mood for a cold treat.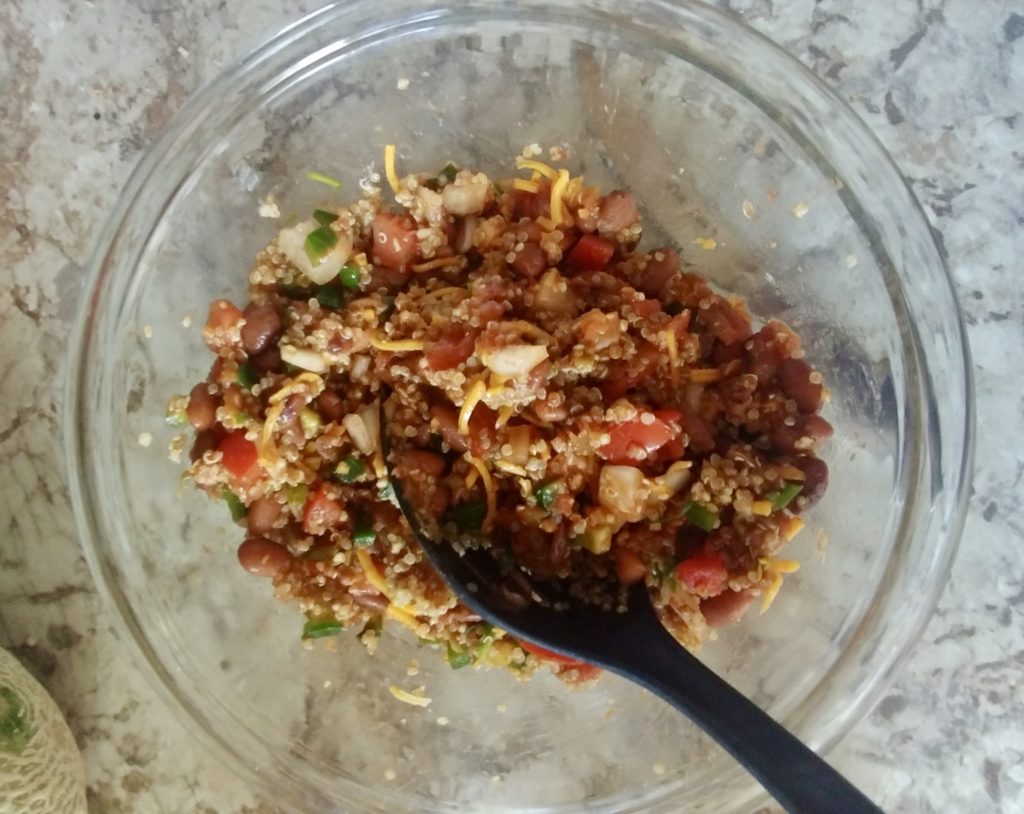 I'm very lucky that I'm on maternity leave because we don't have to meal prep like normal. That being said these would reheat fine, so they work well for meal prepping. I decided tonight to do this recipe by 'winging it'. I didn't look at any recipes prior to putting this together, I just used what I had in the kitchen and was pleasantly surprised with the result. Other than the bell peppers, I had tomato, onion, pinto beans, quinoa, jalapeño, cumin/coriander, chili powder, garlic, salsa, cilantro, and a vegetable bouillon cube for this recipe.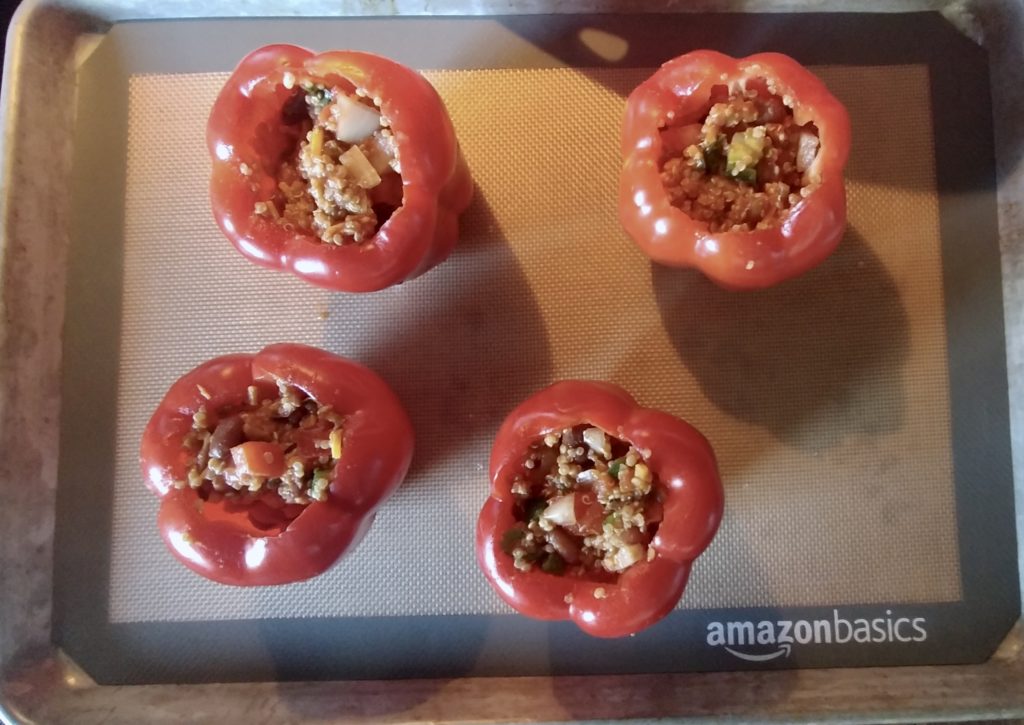 Why You'll Love These
First off, who doesn't want to consume more veggies in their daily food intake. If you're like me, you struggle to get the the recommended intake everyday. By eating a stuffed bell pepper, you're consuming one just with the holder for all the delicious filling. The interior is about another half a serving. It also combines so many different type of plants. We watched a documentary that said the more variety of whole grains and plant based foods you get a day can lead to better health. Well in this recipe alone you get 7. Mix that with a fruit and greens smoothie, and you're 10+.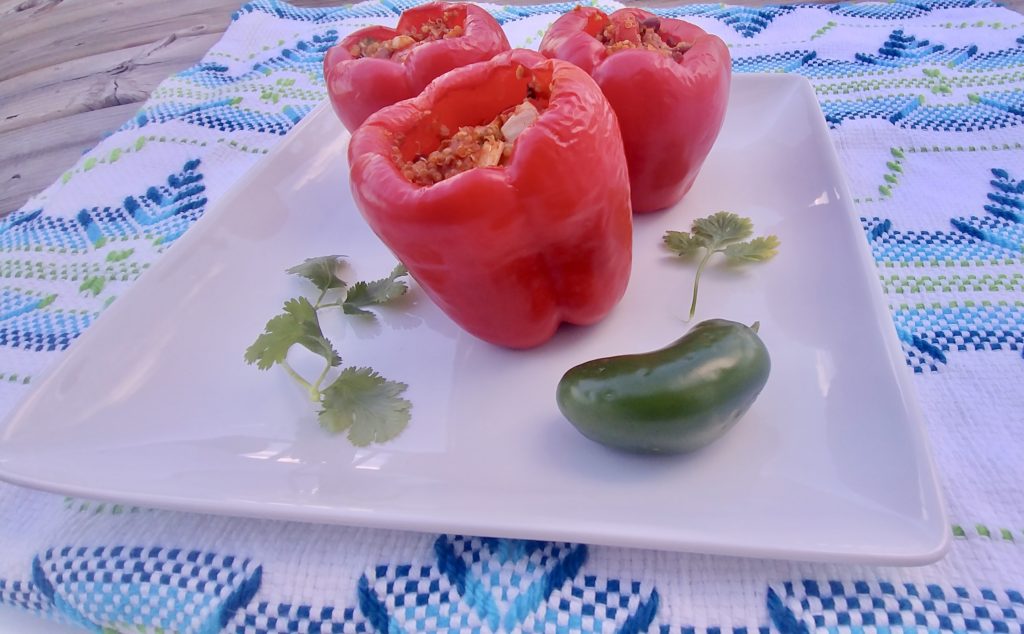 They are quite filling. I have this weird stigma about recipes that are based with vegetables rather than carbohydrates. Not sure what it is, but for some reason I never find them filling. That being said, these quinoa and bean stuffed bell peppers don't disappoint. They will fill you up and keep you full. It's a nice change from my usual bias that salads don't keep you full. Thank goodness for beans and quinoa!
They're seriously delicious. With a bit of heat, these Mexican inspired stuffed quinoa and bean bell peppers hit the spot. Not only are these delicious plain, any leftover filling would make a great nacho topping, or even taco filling. But make sure the filling is baked.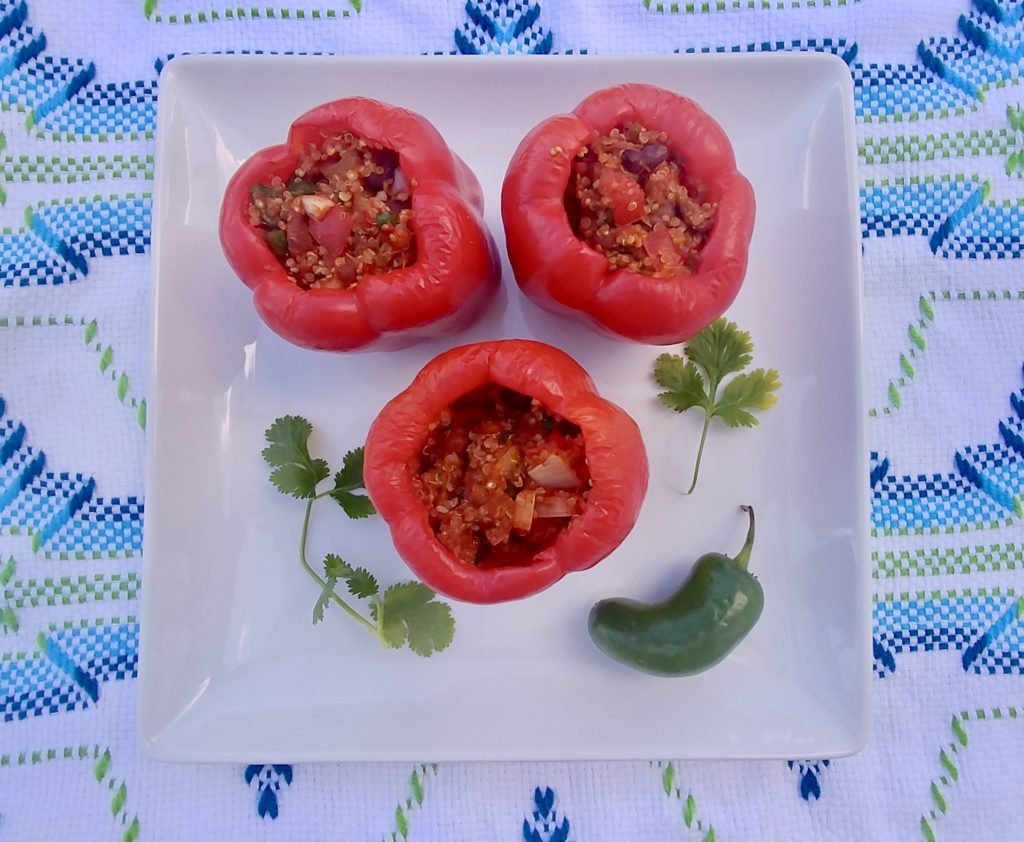 They are vegan! Unless you add cheese, these are vegan. Nothing better than some honest plant-based food. If you don't care if they are vegan, throw a quarter cup of either shredded cheddar or mexican blend into your filling mix for some cheesy goodness. You could also top these with avocado, but unfortunately I cannot eat avocados.
Quinoa and Bean Stuffed Bell Peppers
Prep Time: 20 minutes
Cook Time: 25 minutes
Total Time: 45 minutes
Yield: 4 servings
Ingredients
4 bell peppers (color of your choice) – cut circle hole on top and remove seeds
1/2 large tomato or 1 small tomato (chopped)
1/4 white onion chopped
1 can pinto beans
1 cup cooked quinoa
1/2 vegetable bouillon cube (for making the quinoa)
1 tsp cumin/coriander spice
2 tsp chili powder
1 jalapeno minced
1 tsp minced garlic
1/4 cup salsa
handful chopped cilantro
optional: shredded cheese
Directions
Cook quinoa on stovetop (follow this recipe)
Preheat oven to 350°F
While quinoa is cooking, cut up the tomato, onion, jalapeño, and cilantro
Cut tops off bell peppers and remove the seeds from interior
Place on lined baking sheet
Once quinoa is cooked, measure out 1 cup and add to a large mixing bowl
Add chopped vegetables, cumin/coriander, chili powder, and garlic to bowl and mix together
Next add the salsa and stir it in well
Finally add the beans to the filling and mix well
Spoon the filling into the bell peppers
If there is leftover filling (it'll vary based on the size of peppers), bake it in a small pan and use it to top nachos or as a taco filling
Bake for 25 minutes
Remove from heat and serve
Nutrition Information (per serving of one pepper)
Calories: 280
Protein: 16.5
Fat: 1.5 g
Carbohydrates: 59.8 g
Fiber: 14.3 g
Sugars: 11.2 g (all plant-based)
Top with chopped avocado, cilantro, shredded cheese, chopped onion, jalapeños, or whatever you'd like. I keep these simple being there's so much in the filling. Let me know your thoughts in the comments below.
-Cassie 🙂
(Visited 23 times, 1 visits today)