Lately I've been in a food rut. Everything we've been eating is just the same old, dal, chana masala, cauliflower pizza, soups, and baked oatmeal. I know some serious work is coming when I start to feel bored with what we're eating – so that started this last week. This quinoa black bean taco filling is a super versatile dish that goes well on tacos, nachos, or even in burritos. It makes enough for 6+ servings of nachos, so meal prep this and have it throughout the week.
This stuff is so delicious. It's quickly become a favorite in our house. We love throwing nachos together because it's an easy meal that is a healthier version of a comfort food. It's vegan (unless you want to top it with cheese or sour cream), which means you can serve it to all your friends.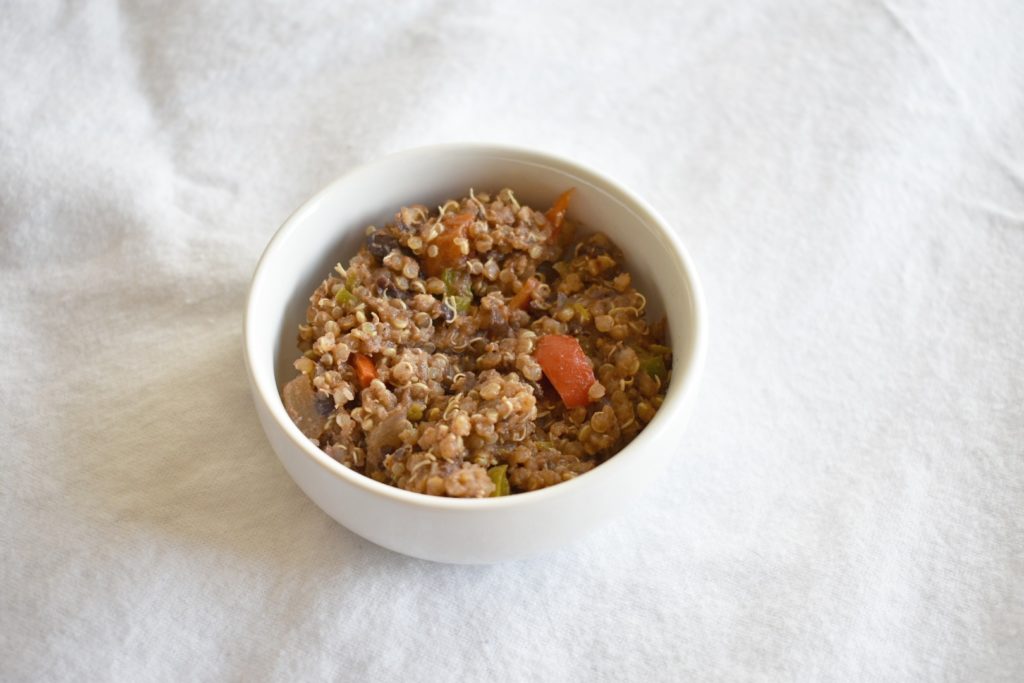 Why you'll love quinoa black bean taco filling?
It's great for meal prep. When I make this in our house we get 3-4 meals for two out of one serving. We prefer throwing together nachos with tortilla chips, lettuce, and salsa.
This dish is vegan. This dish is plant-based, which is great. It's inexpensive if you stock up on quinoa, black beans, vegetable stock, and spices. I always have this stuff in the pantry.
Can you say comfort food? I am a huge fan of healthy comfort foods. This takes a traditional nacho topping or taco filling and packs it with fiber and protein.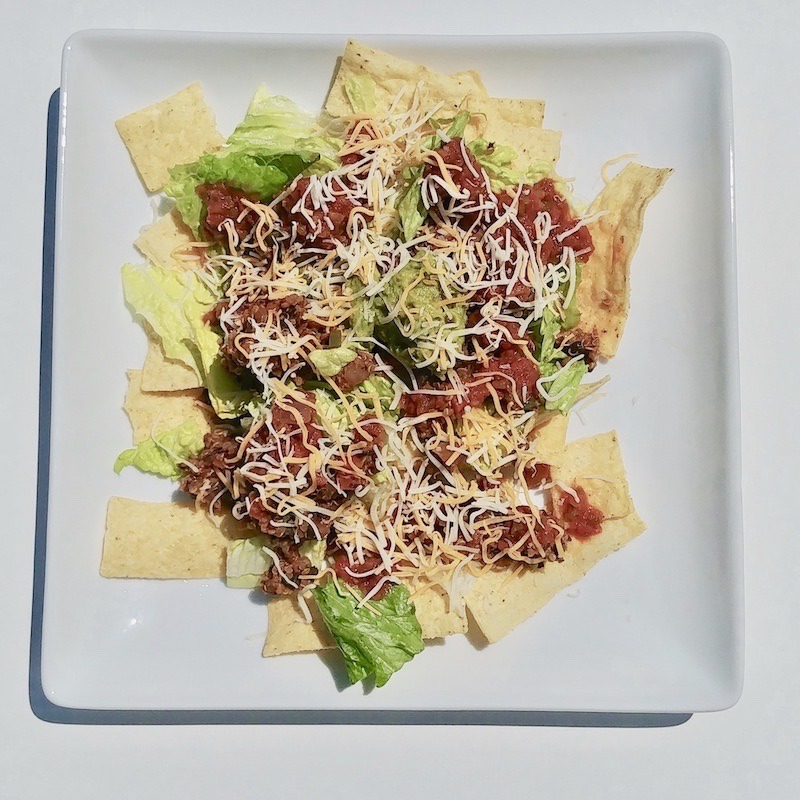 We love having these in nacho form because they're easy to throw together, and remind us of one of our favorite meals when we're out at one of our favorite restaurants – enormous nachos. We love this though because there is no meat on the plate, yet the texture is quite similar to ground beef in tacos. `This would make a fantastic filling in stuffed bell peppers, follow the baking for the peppers here.
Quinoa black bean taco filling is a great plant-based alternative to beef or other taco fillings. Its great over nachos, in tacos, and even burritos.
Prep Time20 mins
Cook Time10 mins
Total Time30 mins
1
can black beans, mashed
½
tsp
coriander cumin powder
¼
tsp
(optional) cayenne pepper
1
Cook quinoa. I've linked a recipe in the above text if you need a recipe for this.
2
In a large skillet, heat olive oil. Brown the onion, jalapeno, and bell pepper for 5 minutes. 5 Minutes
3
Add garlic and quinoa and mix well.
4
Stir in spices and allow to become fragrant.
5
Mash black beans with a potato masher or food processor (a fork will work too).
6
Fold black beans into quinoa mixture.
7
Drop heat to low and mix in soy sauce and lime juice.
8
Serve in taco shells, as burrito filling, or over nachos
Nutrition Facts
Servings 6
---
Amount Per Serving

% Daily Value *

Total Fat 3.6g

6

%

Total Carbohydrate 48.6g

17

%

Dietary Fiber 3.6g

15

%

Sugars 3.4g

Protein 14.8g

30

%
---
* Percent Daily Values are based on a 2,000 calorie diet. Your daily value may be higher or lower depending on your calorie needs.
Let me know if you try these, how you ate them and what you think in the comments below.
-Cassie 🙂
(Visited 164 times, 1 visits today)