Another week past, and another blizzard. This winter is just relentless. Between that and the growing little babe in my belly, the lack of motivation to do much of anything is getting more and more real. I hope you're better than me, but it's really getting time for some melting and warmer weather. Who's with me?
Anyway, thankfully this weekend I took a half-day again on Friday so I could come home and get some stuff done. Met up with a friend for lunch, hit up the grocery store, and then hit the kitchen to prep some soup and dinner for the hubby when he got home from work. It's been a challenge trying to stock the freezer full of food for the little babe's arrival, as well as keep us up with healthy stuff. So far, so good though.
We got a good list together for my Sunday grind day in the kitchen too. Making some roasted broccoli, chickpea, and quinoa bowls, spring bowls, black bean soup, aloo gobi, bhindi masala, and some freezer spinach enchiladas! This spring bowl – recipe listed below, is one of my hubby's favorite meals. It was inspired by a local restaurant, where we got these vegan bowls and it was almost like vegetarian sushi without the nori. Throw in some pulses and you've got a filling meal!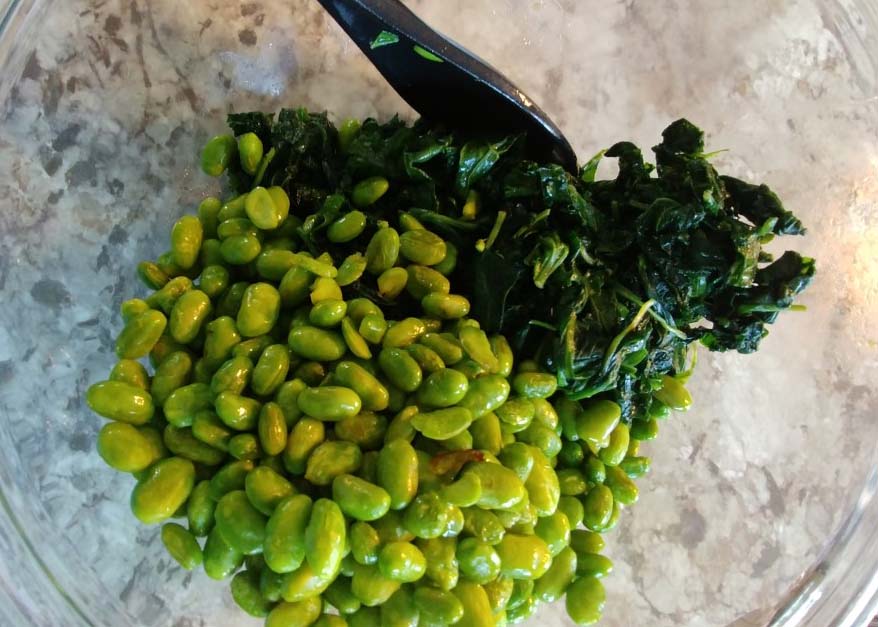 This really is an easy dish as it only requires a few fresh ingredients, minimal spices, and some rice. It is refreshing and simple. Now this one takes just a short time, however you do need to roast the asparagus so don't forget to warm up the oven!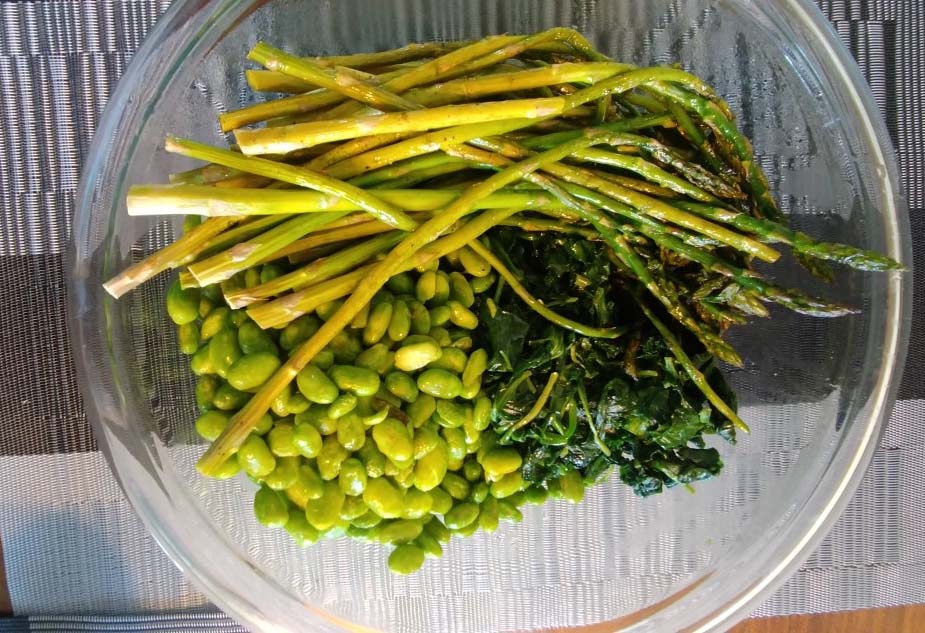 Unfortunately I cannot eat one of the main ingredients of this dish during my pregnancy due to some crazy stomach problems that come up after I eat avocado, but that doesn't stop the hubs from enjoying it with fresh avocado! We've had it with avocado or guacamole as well. The guac adds a bit more flavor to it, where as the clean and crisp flavors come through more with the plain avocado. The choice is yours!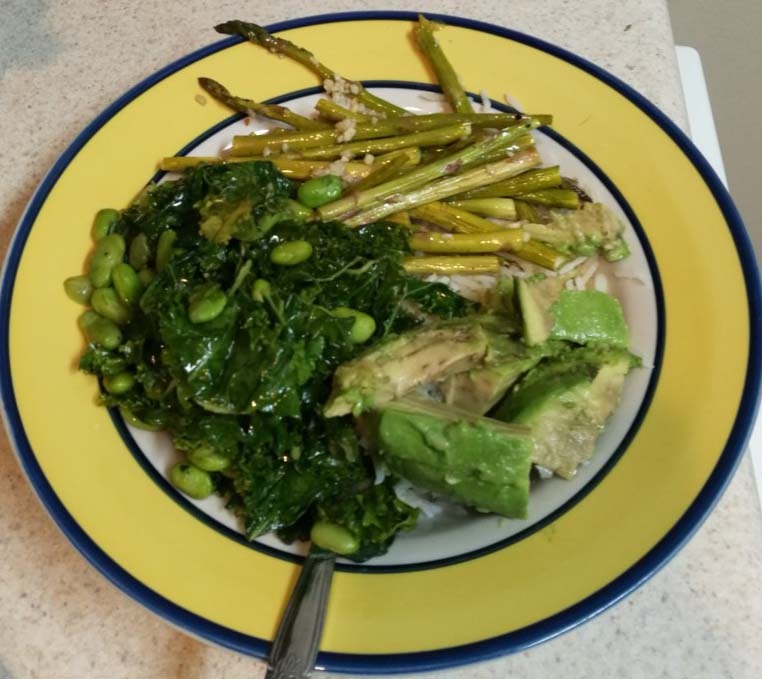 Prep Time: 5 Minutes
Cook Time: 20 minutes
Total Time: 25 minutes
Yield: 4 spring bowls
Ingredients
1/2 bunch of asparagus
1 6 oz bag of spinach
1 bunch of kale (rinsed and leaves trimmed from the stems)
2 avocados
1 bag frozen edamame
4 tbsp olive oil
salt and pepper to taste
1 1/2 cups white rice (we use basmati – less sticky)
Directions
Cook rice in rice cooker or pan with a 2:1 ratio of water to rice. In this case 3 cups of water to 1 1/2 cups rice
Preheat oven to 425
Line baking sheet with silicone baking mat or parchment paper
Add asparagus and 1 1/2 tbsp oil to sheet
Mix the asparagus into the oil
Salt and pepper lightly
Bake for 15 minutes
While asparagus is baking, sauté spinach and kale till wilted with 1 1/2 tbsp oil
Once wilted, remove from pan and add last tbsp oil
Add frozen edamame and sauté until thoroughly heated
Add edamame to same bowl as the spinach and kale
Cut avocados into halves, and slice into small bite size pieces
Remove asparagus from oven
To assemble bowls:
Add about 3/4 cup of cooked rice to a bowl
Use about 1/4 of the kale spinach mix and 1/4 of the edamame over the rice
Add 1/4 of the asparagus to the bowl
Top with a halved avocado cut into bite sized pieces
Add salt and pepper to taste
These are so tasty and are so very simple! Let me know if you modified this recipe and what you added/took away. Always excited to try new things! As always – let me know what you think and if you have any comments/questions.
-Cassie
(Visited 4 times, 1 visits today)